What kind of services can I offer to you? What is the benefit for you to work with me?
Real Estate
As a Real Estate Consultant...
My motto "Fluent in Service" means 2 things. One, that I speak a few languages (Russian, German, Hungarian, English). The other thing, that I take the word service very seriously. I do my best to help you out, not just by concentrating on the real estate part, but I am going beyond that. I want you to make you feel comfortable; I will find out different things in your new community, introducing you to people I know and who can help you in other issues - not necessarily related with real estate. In most cases, new clients mean new friends for me, so I am looking forward to meet you! I live in Windsor Park, so I participate very actively in this community, too.
Translator/Interpreter/Teacher
I am a certified translator and interpreter, and I am getting assignments from different places (schools, companies, private requests, Immigration, etc.) to translate documents from English to Hungarian (or vica versa) or interpret to Hungarian people who cannot speak English.
Also I have a university diploma of Teaching Hungarian language and literature in high school, and also a TESL certificate from the Concordia University in Montreal, so I am a certified English and Hungarian teacher.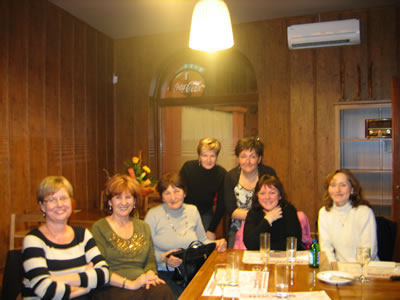 Arbonne - I am Health Conscious...
As an Ex-teacher, I like to educate people not to use chemicals or any body products with mineral oil, dyes or animal products. Instead, use herbal and botanical based, pH-correct, pure, safe and beneficial products like Arbonne, my home based business. We have 6 industries under one umbrella, not just regular body and skin care, including shampoo, conditioner, lotions, Spa products and cosmetics. We also carry vitamins and minerals, Bio-nutria and weight loss products, an aromatherapy line. Our skin care line includes the whole family: babies, teenagers, men,baby-boomers. My gift to friends and clients is usually an Arbonne Gift basket with some of the basic body care and some individually tailored products. Visit my Arbonne website at www.babyboomerheaven.myarbonne.com where the prices are in US$, so you have to put in your home address to get the prices in the currency your country uses (Canada, Australia, UK).
inLife - Alternative smoking device...
I also became a supporter of the company inLife and I am promoting the Electronic Alternative Smoking Device as a logical alternative to smoking. Our flagship alternative smoking devices have created quite a buzz in the market place. They are remarkable! They help to restore freedom and they provide simulated smoking pleasure without tobacco and the problems associated with it, like second hand smoke. www.myinlife.com/marika.
Calgary Immigrant Services
As an Immigrant Woman myself...
I help Immigrants in many ways. First, coach them in their housing needs; secondly, in their language needs as a volunteer translator/interpreter for the Calgary Immigrant Services and the Calgary School Board; third, in their cultural needs, as an ex-Board member of the Hungarian Arts and Heritage Foundation of Alberta, and the Ex-Producer and hostess of the Hungarian Panorama TV in Calgary. I personally know not just the stretch we have to make when we leave our country, but also the pain of starting over; the challenges we face in a new country, and the psychological impact of immigration on the whole family. Teenagers suffer the most, and we are so quick to identify their acting out or acting "inwards" as a typical teen behavior. That is the reason, that I support also the Alberta Adolescent Recovery Center. For more information on Calgary Immigrant Services, visit www.immigrantservicescalgary.ca
Since there is lots of violence and abuse against women, I support the Calgary Women's Emergency Shelter, too, with interpretation and also with a certain amount of my proceeds.
As a Hungarian Performer...
I have been very active in the Hungarian Community. I have helped the Panorama TV for many years. It required lots of work, but I enjoyed it tremendously, since I could emerge in the culture, refresh my performer past, choose good music, plays, films for the weekly programs. I have actively participated in several Hungarian cultural programs, and I interviewed dignitaries and other outstanding people for the Hungarian TV.
Related Links